Astral Aviation has just signed a code-share agreement with fellow Kenyan cargo operator, Kenya Airways Cargo. It has also just signed a memorandum of understanding (MOU) with Etihad Cargo, and looks set to take advantage of the closer ties being sought by the two countries.
Astral Aviation, a cargo-only airline in Africa flying scheduled routes to 20 destinations across the continent, has just signed a code-share agreement with fellow Kenyan cargo operator, Kenya Airways Cargo. It has also just signed a memorandum of understanding (MOU) with Etihad Cargo to enhance cooperation between the two entities. With these partnerships, Astral Aviation hopes to increase trade between Africa and the Middle East. The announcements come off-the-backs of several other partnerships announced earlier in the year, including an agreement with Air Logistics Group, the world's leading cargo sales and services agent, that would increase online booking capacity for the airline. As Astral Aviation has just celebrated 22 years in operation, we look back at its interesting history.
The humble beginnings of the company
Although Astral Aviation now flies regularly to 20 destinations across Africa, and delivers everything ranging from perishable goods, vaccines, mining equipment, up to humanitarian aid, it started in a very different, and much less secure position. Upon its foundation in November 2000, it was a simple charter airline operating wet-leased (where the aircraft owner will supply air crew members along with the aircraft) Russian-owned Antonov planes.
At the time, the company did not have the funds for Boeing or Airbus freighters, so Astral Aviation began operations with three Antonov AN-12 turboprop planes transporting UN food aid to Somalia, South Sudan and the Democratic Republic of the Congo. Eight years later, Astral Aviation was in a position to be able to renew its fleet, where it returned the aging Russian turboprops and instead dry-leased (where the aircraft is leased without crew) Douglas DC9 freighters. This fleet was then expanded with McDonnell-Douglas MD83s, and eventually with Africa's first Boeing 767-200F.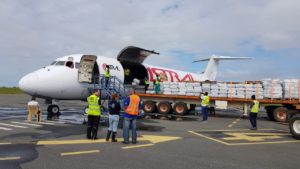 Recently, Astral Aviation has made the news again by ordering the first Brazilian-made Embraer E190Fs in Africa. They join a long order list: two Boeing 767-300Fs, two Airbus A330-200Fs, four A330-300P2Fs, and four Boeing B777-300ERSFs. These aircraft will join the current fleet of 14 that includes four Fokker 50s – used for short landing strips in remote areas – and two Boeing 747-400Fs.
Covid-19 creates huge demand for cargo carriers 
Astral Aviation found itself extremely busy during the first fourth months of Covid-19, flying every single day. Originally this was perishables and pharmaceutical cargo, and then increasingly, masks, personal protective equipment, and PCR and rapid-testing equipment. Astral found itself delivering to 48 of the 54 African countries.
When the first vaccines arrived in 2021, Astral Aviation was ready to assist. In particular, a million doses of AstraZeneca, refused by the Kenyan Government due to the lower efficacy shown against the dominant variant in Kenya at the time, were re-distributed across 16 other countries on the continent. To date, Astral Aviation estimates they have delivered 59 million doses of Covid-19 vaccines across Africa.
As jet fuel prices soar, cargo operators face new pressures
In February 2022, Russia invaded Ukraine. The resulting backlash against Russia saw it ostracized from much of the international community and demand for its oil and gas exports fell, or were intentionally cut off. Fuel prices across the world rose quickly, with jet fuel right alongside.
Cargo airlines like Astral Aviation found themselves facing costs rising by as much as 35%, in part due to the older age of cargo aircraft compared to those operated by passenger airlines. For example, production of the Boeing 727-200Fs that Astral Aviation leases ended in 1984, and the aircraft is significantly less efficient than more modern planes. On top of this, cargo flights are typically unbalanced between outward and return journeys – a flight from Europe to Nairobi will be nearly full of high value-added products, but on the return trip Astral Aviation often has no choice but to fly a near-empty plane. Nonetheless, the airline has shown resilience and continued to operate.
Closer links to the Middle East could fuel growth for Astral Aviation
In October 2022, Kenya and the United Arab Emirates agreed to expedite trade agreements and investment opportunities between the two countries. Astral Aviation's new code-share agreement with Kenya Airways Cargo and MOU with Etihad Cargo will mean Astral Aviation is likely to see more flights into Abu Dhabi, taking advantage of the closer ties being sought by the two countries.
Photos : aircargonews.net