Nollywood, Nigeria's second-largest film industry, has risen from modest beginnings, revolutionizing storytelling and challenging societal norms, making a significant impact on the global film landscape.
Nollywood, Nigeria's burgeoning film industry, has rapidly evolved into a global cinematic sensation over the last few decades. Emerging from modest beginnings in 1992, it now stands as one of the world's most prosperous and influential film sectors, fundamentally reshaping our perceptions of movie production.
Originally rooted in Nigeria's rich oral traditions, Nollywood draws from centuries of storytelling through song and dance. This deep-seated tradition can still be heavily observed through Nollywood films, where stories often interweave traditional music and dance, adding a unique cultural vibrancy to the industry.
From Humble Beginnings
Nollywood has come a long way since it took off in the early 1990s when trailblazers such as Kenneth Nnebue and Ola Balogun played pivotal roles in its birth. Kenneth Nnebue made history by producing Nigeria's first feature film, "Living in Bondage" (1992), which immediately captivated audiences and set the stage for a new era in Nigerian cinema.
The film's success inspired other aspiring filmmakers to enter the industry using video cameras and minimal budgets. These early productions were characterized by their resourcefulness, often filmed on location without the benefit of professional equipment or crews.
Fast-forward to the present, Nollywood has transformed into the second-largest film industry globally, second only to Bollywood in India. Every year, it produces over 2,000 movies and boasts an estimated revenue of $1.2 billion, establishing itself as one of the most prolific film industries worldwide.
Statistics On Nollywood Film Industry 
During the first quarter of 2023, Nollywood exhibited its unwavering productivity by delivering a total of 280 films according to Alhaji Adedayo Thomas, the Executive Director/CEO of the National Film and Video Censors Board (NFVCB).
This figure of 280 films actually represents a decrease compared to the 340 films produced in the fourth quarter of 2022, marking an 18 percent decline.
However, this slight dip does not diminish the ongoing significance of Nollywood in the larger context of Nigeria's economy. Breaking down the production areas, the NFVCB reported that Lagos, as a prominent hub, took the lead with 106 movies.
Following closely was Nigeria's federal capital, Abuja, contributing 99 films, while Onitsha added 32 to the cinematic landscape. Other cities, such as Abeokuta, Kano, and Benin, also played their part, albeit on a smaller scale.
Nollywood's Strategy To Become An Empire
There are a couple of key features that helped make Nollywood into what it is today. First of all : the low production costs. The hallmark of Nollywood's success lies in its ability to craft compelling narratives on limited budgets, often releasing these films directly to the video market instead of going through production companies and studios. Second : they are relatable! These films courageously confront the daily social issues and challenges that confront Nigerians, making them not just movies but mirrors reflecting the lives of millions. 
Also, Nollywood challenges time-honored values and beliefs, nudging individuals to view the world with fresh perspectives. Through their narratives, these films become catalysts for change, encouraging people to question, evolve, and aspire to a different reality.
Last but not least, Nollywood is an Ever-Growing Industry. The industry has, by employing over 200,000 individuals, made a substantial contribution to job creation. Moreover, Nollywood's reach extends far beyond Nigeria's borders, with its films captivating audiences in over 50 countries. This international appeal brings foreign investment, elevating the economic fortunes of Nigeria in a globalized world.
Obstacles Ahead For The Nollywood Film Industry
Despite its remarkable size and reach, the industry faces certain obstacles that warrant attention and innovative solutions. One of the most pressing challenges confronting Nollywood is the perennial need for increased funding.Nigerian films are typically produced on modest budgets, which can limit the production values and overall quality of the final product.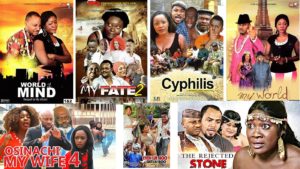 This budgetary constraint hinders Nollywood's ability to compete on a global stage, where Hollywood blockbusters and other regional film industries often command significant financial resources for grand productions.
Rampant Piracy and Distribution Dilemma
Another formidable challenge that continues to plague Nollywood is piracy. Given the relatively low production costs of Nigerian films, they are particularly vulnerable to being illegally copied and distributed. Pirated copies frequently flood the market, and these unauthorized versions are sold on the streets at a fraction of their original price.
While the industry enjoys strong viewership within Africa, expanding its reach globally remains a complex endeavor. Getting Nigerian films into international movie theaters can be a time-consuming process, as many distributors prioritize established foreign films with proven track records of audience appeal.
How Nollywood Has Impacted The Globe
Nollywood's impact on the film industry is undeniable. As the second-largest film industry globally, it has reshaped storytelling, challenged societal norms, and made substantial economic contributions.
Despite facing challenges, Nollywood's influence continues to grow, highlighting the remarkable power of cinema to transcend borders and inspire change. It is a vibrant testament to the enduring and transformative impact of storytelling on a global scale.
photos : olorisupergal.com / miro.medium.com/