With a sixth round of EU sanctions against Russian oil, Europe is looking to leave Russian gas behind for good. Germany is already looking at alternatives in Africa but ramping up production will not be a small task, with infrastructure challenges and increasing preference towards renewable energy over fossil fuels.
Europe looks to Africa as an alternative to Russia
With Russia ostracized in the wake of its invasion of Ukraine, and a sixth round of EU sanctions targeting Russian oil recently implemented, many countries in Europe are looking to leave Russian gas, oil, and coal behind for good. But cutting the use of Russian gas by 60% before the end of 2022 may come with a nasty side-effect – a lack of energy – especially over the winter where demand in Europe increases. Germany is already looking for alternatives in Africa, with the continent's oil and gas reserves being an important topic at the June 2022 German-Africa Energy Forum in Hamburg. In 2020, African oil made up nearly 9% of global exports, with over 327 million metric tonnes produced on the continent. But ramping up production and getting it to Europe will not be an easy task, with infrastructure challenges and the zeitgeist in Europe moving towards renewable energy over fossil fuels.
Lack of investment at home raises questions for export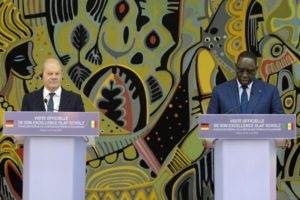 The first major barrier for gas exports to Germany is the lack of infrastructure. Energy development projects are capital-intensive and generally require private-public partnerships. Sultan Wali, Ethiopia's energy minister said that "African governments cannot carry out these projects alone." Ndiarka Mbodji, the French-Senegalese founder of Berlin-based Kowry Energy echoed this, saying, "They need financial support from Germany and other rich western countries. Africa holds the key to resolving Europe's energy crisis. And if we look at Africa's resources, for example gas, you cannot underestimate its importance."
Despite such a positive outlook for Africa to fulfill Germany's gas demands, half of the continent's population lacks access to clean energy, with many households dependent on burning biomass for energy. Moreover, some 900 million Africans lack access to clean cooking solutions, and on top of this, South Africa is in the midst of its own energy crisis. Load shedding is now a daily occurrence, and the situation is predicted to worsen despite the country holding significant natural gas potential. There will no doubt be those who question whether the continent can afford to export gas when it could be put to good use domestically.
Africa must act quickly to profit
Many German companies are keen to help finance African initiatives that produce hydrogen and natural gas for export to Europe, and African nations are keen to power up using gas. Because natural gas, which is mainly produced in Algeria, Nigeria, and Egypt, creates fewer carbon emissions than other fossil fuels like oil and coal it is seen as a 'transitional fuel.' Mbodji says that gas should not be overlooked, stating, "you can see at the moment, with the Ukraine war that we are going through, that there is a need to diversify the source of energy. And if we look at the resource that Africa has in terms of, for example, gas, which is a source of transition, we can see its importance in Africa."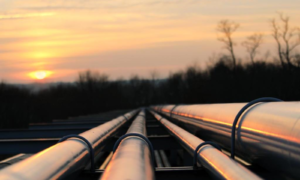 The International Energy Agency (IEA) produced its Africa Energy Outlook for 2022, published on 20th June, where it said that Africa could be in a position to export some 30 billion cubic meters (bcm) to Europe by the end of the decade. If all of Africa's natural gas discoveries are turned into production, Executive Director Fatih Birol has stated that it could make an additional 90 bcm per year by 2030, with around two-thirds of this going towards domestic needs and the rest for export.
But the IEA has said that Africa must act quickly if it is to profit from these vast reserves of natural gas. Europe will only want Africa's gas until it can shift towards lower carbon technology, something that is being increasingly championed with ever more lofty net-zero promises being made by politicians.
Renewable energy also ramps up exports
There is another energy source that could be exported – solar. Taking advantage of the huge potential for solar energy near the Sahara Desert, a massive undersea power cable is coming to Europe from Egypt. The GREGY intersection, going from Northern Egypt and into Attica, Greece, brings 3,000 megawatts of clean solar power to Europe. At the same time, the Xlinks Morocco-UK power project will connect Alverdiscott, Devon, with a solar site in Morocco, providing enough power to supply seven million homes by 2030.
There isn't enough African gas available right now to save Germany from an energy shortage this winter, and with Europe pushing for cleaner energy, by the time production has increased to a suitable level it may already be too late to capitalize on Africa's reserves.
Photos : dw.com – logupdateafrica.com – foreignpolicy.com