The micromobility tale
In order to adequately assess the micromobility situation in African countries, we have to note that transport alternatives vary tremendously depending on cultural beliefs, social status, geographic hindrances, availability, needs, demand as well as pricing. Most African households cannot afford to buy a car, or even rent one. But the government is yet to invest in bike-friendly infrastructures leaving people with no other choice than being heavily reliant on motorized vehicles to reach their destination.
With a population of over 1 billion people and almost 75% of motorized trips, sustainable options should be provided to alleviate the demand of a growing population for a flexible, fast and clean microtransport system to commute in traffic-congested communities.

Bringing micromobility to Africa
Bike sharing has started spreading like wildfire across the world. Unfortunately, this unique technology has known rather slow beginnings in most African cities and is yet to be embraced by the users at large due to the cultural misconception that a bike is a 'poor man's means of transportation'. Additionally, an evident lack of bike-specific infrastructure like dedicated cycling lanes, causes companies' launch to lag behind.
A fleet of electric scooters or bikes will drastically reduce long queues at bus stops due to an insufficient supply of public buses and will see a drop in household expenses as bikesharing is offered at a minimal fee compared to the high cost of taxis. Micromobility can also bargain on reduced gas-powered emissions, as there will be fewer cars on the streets and solve problems of dangerously high levels of pollution. Moreover, electric scooters are more likely to be a more viable mode of transport. According to "Wired", a gasoline-powered car can travel 0.8 miles whereas an electric scooter covers 82.3 miles on an equivalent one-kilowatt hour of energy. It is also extremely convenient that electric bikes and scooters take up less space in a parking lot.
The Big Players
Micromobility solutions have been embraced by few operators such as Cycles (Nigeria), Baddel (Egypt), Guraride (Rwanda), Smoove (Morocco), Asambe (Zimbabwe), Lime (Cape Town),
So far, the leading players in deploying microbility programs are Egypt and Morocco. In 2016, Marrakech (Morocco), was the very first to establish a bike-sharing startup across the city. Smoove, a French company, supplied the 300+ bikes available for public use through the Medinabike program run by the Ministry of Environment.
Baddel, headquarted in Cairo, Egypt, was the first to set up such a venture in North Africa with 101 electric and 15 dock stations. A partnership with the UN Human Settlements program has also launched hundreds more vehicles throughout the capital since 2018.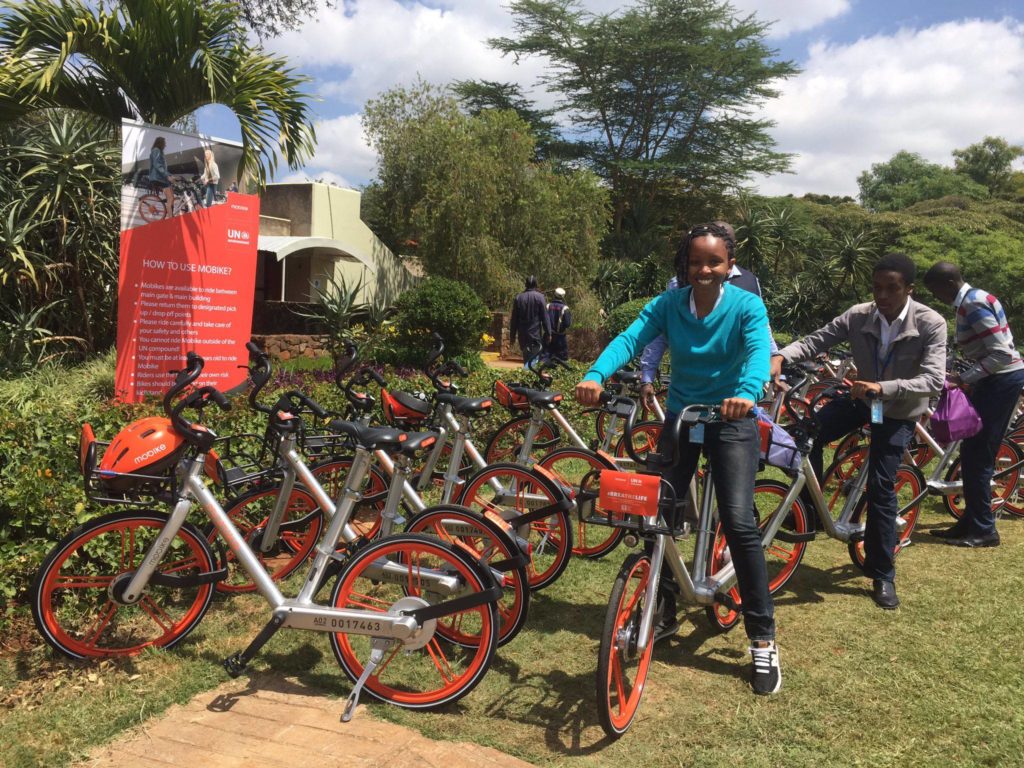 Launched in 2017, Guraride, a Rwanda-based green e-mobility company, enables customers to choose their favourite ride by combining in an app the accessibility to electric scooters, bikesharing, and smart bikes. The charging stations are solar-powered and a bike can go up to 70km in a single charge. The government has supported the improvement of infrastructure to accommodate more cycling lanes in Kigali's centre. Compared to other African countries, Rwanda has more easily implemented the concept of public bike share as cycling is a national pride.
In 2018, the UN Environment Program partnered with Mobike to begin bike-sharing operations for the UN's Nairobi compound and featured during the Africa Clean mobility Week, in an attempt to showcase the positive impact of such shifts on the environment. Nairobi has also seen an overhaul in its CBD setting in view of its vision for a green e-mobility by 2030.
Pan-African company Asambe offer for e-biking perfectly fits the demand for a fun, affordable mode of transport given the fact that Zimbabwe has the highest fuel cost and is very often afflicted by petrol shortages.
In communities where all the odds are against the startups, companies like Cycles are sometimes left with no choice than to cater for Universities and residential estates where appropriate framework already exists. Smoove also launched an armada of shared bicycles in Lagos, Nigeria in 2018 but it has not seen any surge in development due to a ban on bike-hailing services imposed by the government
What Lies Ahead
There has been a renewed focus on micromobility, especially following the Covid-19 pandemic need for social distancing, solo rides rather than sharing buses, taxis or trains. This will have in prospect more single riders, fewer points of shared contacts and open-air transit options as we transition out of lockdowns.
Micromobility obviously seems as the best way to reduce congestion and pollution but it is often not considered as a political priority. We can only hope for a switch in both users and the government and that hurdles such as theft, city bans and limited infrastructure will be resolved to ensure complete adoption and that mobility-as-a-service will become the future mode of transport.
Forecast
Based on market research insights, the micromobility market is reported to grow at a rate of 13.20% over the period of 2020 to 2027 given the factors anticipated to be prevalent in the coming years.
Photos : shared-micromobility.com and cbinsights.com