Mashal Aqar is another female leader breaking the glass ceiling and showing the way for the next generation of female leaders.
In the last two decades, we have seen a dramatic and heartening increase in the number of women breaking through the corporate glass ceiling to take up top executive positions within many of the world's leading companies as well as female entrepreneurs building their own companies.
Two sectors where we are seeing lots of strong women executives are the fields of technology and digital media. Within digital media, many of the sites and companies are not only women-led, but also women-focused, and one such company is The Tempest, an American company aimed at millennial and Gen Z women. And sitting close to the top of The Tempest's corporate tree is Mashal Waqar, co-founder (with Laila Alawa) and COO.
Background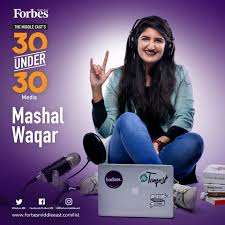 Waqar was born in Saudi Arabia on 18th January, 1995. Her parents are Pakistani and she is the oldest of three children. She majored in computer security and international business at Rochester Institute of Technology and was awarded a BS (Bachelor of Science) degree.
While at Rochester, she founded the WRITERS magazine and acted as editor-in-chief for the duration of her time at the university. She was also the president of the student government and acted as a tutor and mentor to younger students. Waqar co-authored a research paper examining the challenges faced by female entrepreneurs.
Her primary residential base is Washington D.C., but she also spends time in Dubai and Toronto.
Career
Along with Laila Alawa, Waqar co-founded The Tempest in August 2016. They state that their purpose is to be: "…the destination for diverse women to share, inspire, and celebrate life through storytelling, experiences, and a global community."
Their target audience is the female leaders, entrepreneurs, and creators of tomorrow. The team comprises more than 30 full time staff based around the world as well as a contributory team of more than 1,500 writers. The company has a presence in several major cities, including New York, Dubai, London, and Toronto. Waqar has served as COO since the company was founded.
Since January 2018, she has served as a mentor for the Techstars Startup Weekend events, a 54-hour event held in many cities where everyone from developers to designers to marketers come together to network, discuss innovative ideas and products, and even form startups during the event.
Since March 2018, she has also worked as a mentor for Sheraa, a civic organisation in Sharjah, United Arab Emirates, aimed at creating the city's next wave of entrepreneurs. 
Achievements
Waqar was named as 'Young Leader of the Year' at the 19th Global WIL (Women in Leadership) forum in 2017. In 2019, she was named in Forbes' Middle East '30 under 30' list. She regularly gives talks on the cyberbullying and trolling women experience online and is also an active disability rights advocate.

With women like Mashal Waqar not only breaking through the glass ceiling but guiding and mentoring the next generation of female leaders and entrepreneurs, the future's looking bright.

Photos : moose-jaguar-7xk3.squarespace.com and Facebook