There is an urgent need for a data governance framework across the region that is supported by robust, empowered institutions which can support development and allow for entrepeneurship to flourish, offering huge possibilities for the African continent.
Rapid digital growth could drive big developments in Africa 
Rapid digitization offers huge possibilities for the African continent, galvanizing regional developments like free trade areas and structural transformations that in turn promise economic and social growth. Moreover, with the pandemic proving that digital access is a necessity for all, creating secure, reliable digital infrastructure should be a priority for everyone. But while African countries have benefited from technological uptake across health care and economic sectors, there is a large digital gap, and threats ranging from digital monopolies, to lack of electricity, to inefficient regulation could slow this digital revolution. Implementing a data governance framework for the entirety of the continent is therefore a crucial next step.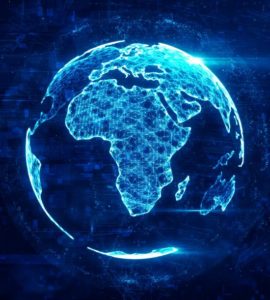 A regional approach to data governance
A data governance framework is the collection of rules and processes that ensure privacy and compliance with enterprise data management in a country or region. With rising cybercrime, ransomware attacks, and identity theft, ensuring that all organizations and governments are following an established set of rules will offer safety to consumers and encourage confidence for entrepreneurs. There are two broad sets of laws:
Safeguard laws

are the most well-known. These are laws focused on data protection and privacy, and in 2021 some 52% of African countries had enacted at least one form of data protection legislation.

Enabler laws

are less commonly known. The idea of enabler laws is to support development outcomes, and policymakers in Africa should scale-up efforts on this type of policy. Investment into information technology infrastructure, improving technical skills in the region, and standardizing regulations particularly around e-commerce and financial transactions allows businesses to take advantage of digital opportunities.
While national efforts are ongoing, the data policy environment in Africa as a whole remains fragmented. Currently only eight African countries have ratified the Malabo Convention, a regional approach to data protection and cybercrime, and only six are participating in the World Trade Organization's e-commerce negotiations to set up new global trading rules for e-commerce and digital trade.
Rapid growth constrained by infrastructure struggles
Before the continent can properly realize any kind of digital transformation, it must resolve a connectivity problem. In 2017 only 22% of the population had access to the internet, barring most of the continent from e-commerce and other new services. This holds back both startups, who struggle to attract funding, and established businesses who are slow to adopt digital technologies due to a lack of customers benefiting. While the ICT and mobile sectors have grown since then, especially after the Covid-19 pandemic started, millions in Africa still lack basic connectivity. In response to this, there are two main options being pursued:
Increasing sovereign debt

to pay for new infrastructure, much of it Chinese-supplied. This strategy carries with it numerous other challenges, not least of which is transparency and corruption surrounding such deals, but also the predatory nature of many of the agreements.

Allowing the private sector to flourish

by establishing the regulatory conditions in which it can grow. Too often in Africa the success stories of entrepreneurs are in spite of government interference, rather than as a result of it. African businesses have become well-practiced at circumventing government obstacles, rather than capitalizing on government policies.
A united, regional approach focusing on 'enabler laws' would help with this problem, and the African Continental Free Trade Area (AfCFTA) represents a key stepping stone towards a regional data governance and infrastructure policy that could start to change this environment.
From cybercrime to monopolies to offshoring
Even though infrastructure problems are slowly being resolved, a true, effective, regional data governance framework is important for promoting productive and inclusive growth on the continent. In order to ensure that technology complements and does not substitute workers, the digital literacy of Africa's workforce needs to be increased, both in terms of hard and soft skills. This will help promote job opportunities, rather than replacing jobs with offshore jobs or automation.
There is also the threat from private businesses themselves. The current platform-based business model that dominates in the digital sector encourages a winner-takes-all, monopolistic paradigm which is especially harmful to developing economies. Still, leaving the solution with governments raises questions about data protection and citizen privacy. In both cases, it leads to high prices, poor quality of services, and potentially includes privacy violations for the customers and service users.
The intersection of all of these threats significantly affects the potential positive impacts of digitization on the African continent. There is an urgent need for a data governance framework across the region that is supported by robust, empowered institutions. This can foster a fair and competitive ICT market on the continent, promoting sustainable and productive growth.
Photos : cigionline.org – data4sdgs.org