In 2015, sub-Saharan Africa had approximately 77 million gamers, but in 2021 that number had shot up to 186 million, making Africa one of the fastest-growing in the world.
Video gaming is taking off on the African continent
In 2015, sub-Saharan Africa had approximately 77 million "gamers" – someone who plays video games at least semi-regularly. In 2021 that number had shot up to 186 million. Crucially for developers, the number of people willing to pay for video games has also skyrocketed. When taking into account the growing youth population in Africa and greater access to mobile phones on the continent, analysts are predicting a compound annual growth for the video game market of 12% until 2026, making Africa one of the fastest-growing in the world.
Impressive growth, but small total numbers
While the number of gamers in Africa is increasing rapidly, the total numbers are still relatively small. Across the world, there are an estimated 3 billion gamers, meaning that sub-Saharan Africa currently only accounts for 6.2% of the total number of gamers in the world. South Africa accounts for the biggest market within in Africa, with nearly 40% of the population identifying as 'gamers,' compared to only 27% in Ghana and 23% in Nigeria. In Kenya and Ethiopia the gaming population makes up 22% and 13% of their overall population, respectively. For comparison, the Entertainment Software Association (ESA) in the United States of America estimates that 67% of American adults play video games at least semi-regularly.
Why this growth is not just a pandemic pop
One of the biggest drivers of growth in gaming across the world has been in mobile games. Mobile gaming now dominates the market with the segment worth nearly $100 billion and showing a 7.3% YOY growth.
In Africa, video gaming has gone hand-in-hand with greater proliferation of mobile technology and smartphone ownership. In South Africa nearly 51% of the population have access to a smartphone, and it is estimated that by 2023 nearly 84% of the sub-Saharan population will own a mobile phone. This proliferation has meant that along with gaming, online shopping and social media have exploded on the continent. In some industries, such as banking, this has even led to a 'leapfrog' effect where traditional players, such as brick-and-mortar banks, have been skipped in favor of smartphone and internet-driven solutions. In the video game market, traditional devices such as personal computers or games consoles have low ownership numbers due to the relatively high cost of equipment, along with often unreliable power sources, and people are going straight to mobile gaming.
When looking at growth that occurred during the Covid-19 pandemic there is always the question of whether lock-downs and social distancing played a part and how long the trend will last post-pandemic. The video gaming trend in Africa has been going on a similar trajectory for many years now, and when comparing the percentage of adults that play video games in Africa to that of the United States it is clear that there is plenty of room for further growth.
The link – or not – with cryptocurrency
Frequently making headlines, it is no surprise that analysts have looked to see if cryptocurrency is important to the gaming community in Africa. TripleA notes that gamers are more likely to own crypto compared to non-gamers, with 55% of gaming millenials owning crypto as compared to just 5% of millenials overall. On top of this, 80% of gamers who own crypto are interested in using cryptocurrency for gaming purchases. In Africa and the Middle east, a total of 5.9 million gamers own crypto. Along with this, many game developers are looking for more ways of integrating cryptocurrency into gaming.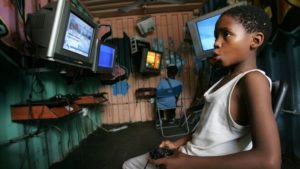 This has not always been a welcome choice however. Globally, crypto and blockchain technology in gaming is a controversial topic. Vice Magazine describes it as a 'culture war' between developers and players, and executives and crypto evangelists. Developers at major studios that are actively using or considering crypto in their games, such as Electronic Arts, Zynga, Behaviour Interactive, and Ubisoft, have described internal turmoil and disapproval over what is often seen as "dollar signs guiding executive-level decisions that seem to add little to the already wildly popular medium, and if anything, present a threat to how and why games are currently made."
But if gamers want to use crypto, then perhaps it is simply a matter of implementation.
Local games, local developers
The African video game market is one that so far has seen little attention from the international community. This is allowing local developers like Nairobi-based Usuki Games, Ghana's Leti Arts, and South African startup Carry1st to thrive. But with Africa having one of the fastest-growing video game markets in the world, it is unlikely to be long before multinational companies have the continent in their sights.
Photos : euronews.com – inews.co.uk