Africa's largest and most high-tech shopping mall has opened with much fanfare in South Africa's Waterfall city.
Shopping malls are not something new to Africa and they most certainly are not a novelty in South Africa, a nation that boasts the 6th highest number of shopping malls in the world. With just shy of 2,000 malls, in a country where a large number of residents have very limited finances, a new super mall seems ambitious.
Ambitious is not an adjective that the developers would feel reticent to accept however, as everything about the new Mall of Africa aims to set it apart from the competition.
Three and a half years of development
The Mall of Africa may have just opened its doors, but the construction of the bold plans laid out by Atterbury Property Developments began back in October 2012. Atterbury have been responsible for the construction of a project that is 80% owned by another firm, Attacq Limited which has the commercial development rights to Waterfall City. The goal is to build a technologically advanced and prosperous city of which Mall of Africa will be the focal point.
The numbers reflect the determination to create something grand for the Waterfall precinct in the Midrand area. The $340 million development consists of 550,000 square meters that house over 300 shops, a host of restaurants and a cinema complex, all under one roof.
It is not simply a matter of grand scales that defines Mall of Africa as a leap forward in terms of its design. The mall hosts unique attractions, such as a large outdoor play area for children that features an interactive musical fountain. Moreover, in keeping with the move towards greater sustainability in business, the mall features several environmentally sound designs. The roof holds solar panels that will provide 4.8MVA of green energy and its toilet facilities will use gray water harvesting to provide irrigation for the surrounding complex.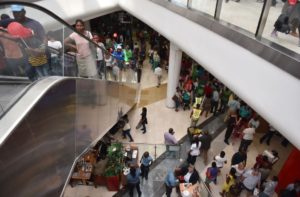 Keeping up with consumer demands
In a time where many people are shopping online and in which a day out is deemed incomplete without the ubiquitous "selfie" or status update, Mall of Africa's developers were very aware of the need to create a destination for today's world.
Perhaps the most challenging installation was ensuring that all 130,000 square meters of the retail space in the huge 550,000 square meter complex provided strong, fast Wi-Fi. For this, the developers turned to VAST Networks and Ruckus Wi-Fi, which were able to roll out the largest Wi-Fi installation ever seen in Africa. CEO of VAST Networks, Grant Marais said, "A deployment of this scale is a massive undertaking by world standards and an African first which we are very proud of."
Evidently it was hugely important for both retailers and the expected crowds that Mall of Africa could ensure reliable, quick Wi-Fi across the entirety of the complex, which was why this sole aspect of the development began 12 months ago.
In keeping with this focus on modern demands, Mall of Africa has a dedicated Uber drop-off point to work alongside its 6,500 parking bays and valet service, another first in South Africa.
The response to another mall
The more cynical might argue that malls are not what South Africa needs, but a project that has already created huge amounts of work and if successful will provide thousands of jobs is surely beneficial for local people.
The mall opened on Thursday April 28th and saw 124,000 visitors arrive in flocks as they sought to shop at famous international outlets such as Armani Exchange, H&M and Zara.
For the first 5 days of opening, Mall of Africa has remained a huge attraction, with brand manager Vanessa Fourie stating that by 8pm on Saturday, 79,500 people had been to the mall that day.
Fourie seemed confident that the Monday Bank Holiday would also be a boon saying, "I think the public holiday is most certainly going to work in our favor…many stores would still be running specials, adding to the mall's attraction."
Official figures released by the mall suggest that 34% of visitors over the first 5 days were repeat customers. This suggests that the range of attractions accompanying the shops has worked well and while it's early days, it looks like Mall of Africa's big ambitions might well pay off.