Innovation and flexibility allowed North African and Middle Eastern startups to raise over $1 billion in 2020
Despite the ongoing Covid-19 pandemic, investors continued to believe in the potential of North African and Middle Eastern tech start-ups. The growth in venture capital investments in MENA countries in the latter portion of 2020 speaks volumes about the expected high returns in the coming years. While the total number of investment transactions in 2020 decreased 13% overall from numbers in 2019, a record breaking first half of 2020 and a rebound in late Q3 led to a year that, despite a global pandemic, shattered expectations for investment numbers.
The sectors benefiting most from high investment
While the total number of deals may have dropped, several key industries have experienced major growth throughout 2020:
Fintech, or financial tech did very well. Despite losing 19% of the number of deals, total funding for this industry shot up to $162 million.
eCommerce was a sector that lost 23% in deals but managed to come out with 24% more funding than the sector received in 2019.
Healthcare and Healthtech was an obvious winner given the public health crisis, and investment in Healthcare start-ups soared by 280% compared to 2019 for a total of $72 million in funding
Big winners of the year included the digital healthcare agency Vezeeta, securing a staggering $40 million in series D funding in early 2020, shortly after moving their headquarters to Dubai, and Dubai-based used car marketplace, Sellanycar.com that raised $35 million to expand the number of branches across the country.
United Arab Emirates takes the lion's share of investment funding
The UAE maintained its powerful lead in total funding, taking 56% of the total of venture capital funding raised within the Middle East and North Africa for the year of 2020. Egypt and the Kingdom of Saudi Arabia follow with 17% and 15% of the total funding, respectively. As a percentage of the deal share, very little changed compared to 2019. Most changes were only 1 or 2% of the deal share, with the exception of Saudi Arabia. The Kingdom of Saudi Arabia increased the share of the number of deals by 6%, likely because of the large shift towards ecommerce and Fintech within Sauda Arabia during 2020.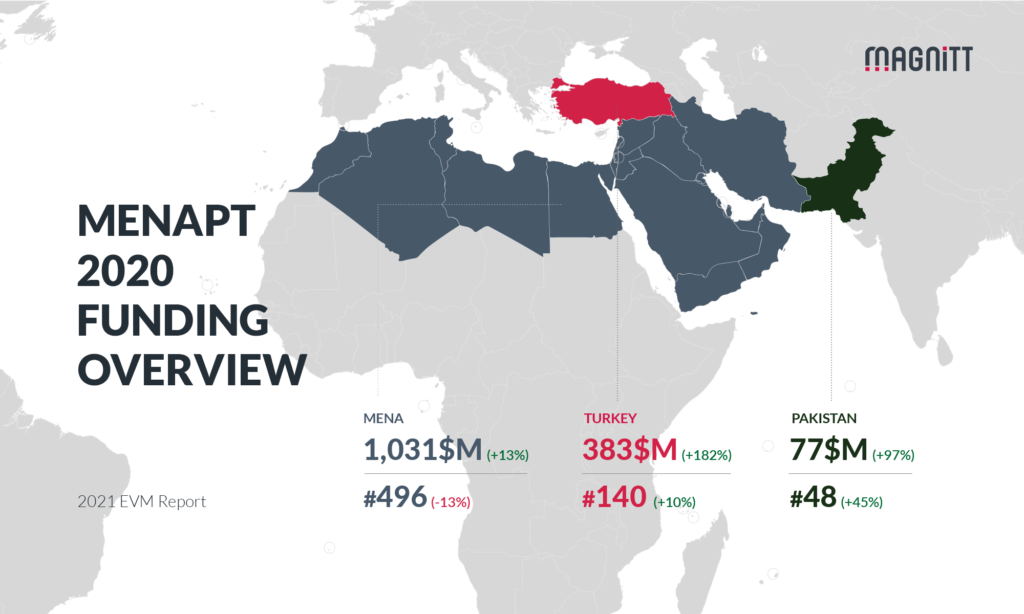 Seed rounds and series A receiving the biggest boost in funding
Despite the increase in funding overall, the investment landscape does seem to have been altered by the Covid-19 pandemic. Pre-seed and early stage venture funding decreased in 2020, while Seed funding and Series A investments exploded, potentially reaching up to $3 million of funding. While exact numbers are still being confirmed, it suggests investors are less willing to expose themselves to risk on companies that are yet to bring a product to market, and instead focused on those with a promising outlook for rapid growth. Given the impact the global economy has seen from Covid-19 and the many countries facing a harsh recession, this change of tactics could be seen as a more cautious approach from investors.
A promising outlook for tech start-ups in the Middle East and North Africa
Although Covid-19 is far from over and many of the long-term economic impacts are still to hit home, raising over $1 billion of funding in 2020 is an incredible achievement for MENA start-ups. Chief Operating Officer at 500 Startups Courtney Powell, among others, have said that the outlook for 2021 is positive, and if the Fintech, eCommerce and Healthtech industries can innovate and succeed through the challenging year of 2020, then there is every reason to expect they will succeed in 2021.
Sources: ventureburn.com – gccbusinessnews.com