TotalEnergies, already heavily involved in the North Field East liquefied natural gas (LNG) project, has been chosen as the first international partner for the North Field South LNG project. Under the new agreement with QatarEnergy, TotalEnergies will gain a 9.375% stake in the North Field South project.
TotalEnergies takes second stake in the world's largest LNG project
TotalEnergies, already a major partner of QatarEnergy and heavily involved in the North Field East liquefied natural gas (LNG) project, has now also been chosen as the first international partner for the North Field South LNG project. Expected to produce 16 million tonnes per year (Mt/y) of LNG, the North Field South project will, along with further development of the rest of the North Field project, increase Qatar's LNG export capacity to 126 Mt/y. The offshore project will be developed via 50 oil wells that will feed 5 oil platforms, all of which are linked to the onshore processing plant by gas pipelines. Two liquefaction trains will also be installed as part of the project.
Extracting from the world's largest LNG field
North Field South and North Field East combined make up Qatar's North Field project, which it claims is the world's largest LNG project in the world in terms of capacity. The field itself is a natural-gas condensate field located in the Persian Gulf, part of the South Pars/North Dome Gas-Condensate field that is shared between Iran and Qatar, holding around 51 trillion cubic meters of in-situ natural gas, plus around 50 billion barrels of natural gas condensates. The field is by far the world's largest natural gas field, and the extremely high amount of resources present means that the area is incredibly geopolitically important.
Qatar is already the world's largest LNG supplier, but nonetheless it aims to expand LNG production from the North Field, along with producing condensate, LPG, ethane, sulfur, and helium. LNG production from the new North Field South project is expected to start in 2025.
High tech, low-carbon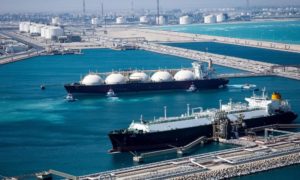 North Field South is aiming to use the highest standards of extraction to reduce the greenhouse gas emissions associated with the project. The processing plant will be connected to Qatar's electricity grid, meaning it will be powered in-part by renewable energy, mostly from the 800MW Al Kharsaah solar plant and the QatarEnergy solar plant currently under construction. Along with this, native CO2 released during natural gas production will be captured and sequestered rather than lost to the atmosphere. A system to recover gas evaporated during shipment will also be implemented that is expected to reduce greenhouse gas emissions by nearly 1 million tonnes of CO2 equivalent annually.
TotalEnergies enjoys booming LNG prices
TotalEnergies, just like BP, Shell, Exxon Mobil, Chevron, and others in the gas sector, has had a windfall year, with oil and gas prices being pushed to record highs in the wake of Russia's invasion of Ukraine. Due to Western sanctions on Russian exports, the destruction of the Nordstream pipeline, and public outcry of the invasion pushing nations to move away from Russian oil and gas, buyers in Europe scrambled to replace Russian imports, which caused prices to skyrocket. TotalEnergies sat in an enviable position with access to 20 million tonnes of regasification – roughly 15% of the total capacity available on the continent – and was able to leverage this by maximizing spot purchases and sales.
All of this fueled a year of record net profits for TotalEnergies – $36.2 billion in 2022 – and has led some to call it the 'year of LNG'.
The company has since indicated it will double-down on the LNG business, aiming for it to make up 50% of its energy sales mix by the year 2030. CEO Patrick Pouyanné has even stated that it will be a "pillar of the company's growth in the years ahead."
Under the new agreement with QatarEnergy, TotalEnergies will gain a 9.375% stake in the North Field South project, with QatarEnergy holding 75%. The remaining 15.625% will be available to other international partners. Pouyanné has said that, "we are very proud and honored that Qatar has once again chosen TotalEnergies as its first partner on the North Field South project…We see Qatar as a long-term strategic country for TotalEnergies and this new addition of capacity to our portfolio marks an important step towards achieving TotalEnergies' growth objectives in low-carbon LNG, a key pillar of our transformation into a sustainable multi-energy company. It will also enhance our ability, alongside Qatar, to contribute to Europe's energy security. "
Photos : offshorewind.biz and splash247.com