The YouthADAPT competition, an annual competition and awards program for youth-led enterprises jointly organized by the Global Center on Adaptation, the African Development Bank, and Climate Investment Funds (CIF) has announced the 2022 winners list.
The YouthADAPT Competition expands in its second year
The goal of the YouthADAPT competition is to boost sustainable job creation through entrepreneurship and innovation in climate change adaptation and resilience across Africa. The competition invites young African entrepreneurs between the ages of 18 and 35 from micro, small, and medium-sized enterprises to submit ideas that can deliver innovative solutions to adapt to and build resilience against climate change. The twenty winning entries, half of which are women-led, won grant funding of up to $100,000 each, as well as a 12-month accelerator program to help them grow their businesses, deepen their impact, and create jobs on the continent.
Launched in 2021, this year's competition received over 3,000 applicants. Despite its short history it is already delivering results. One of last year's winners, Juveline Ngum Ngwa from Bamenda in Cameroon has been able to scale up her business, Bleglee Waste Management, as a result of the grant. This has meant a second waste sorting center and the development of software for drones which identify garbage blocking drainage systems.
Competition winners from all across Africa
Winners of the 2022 African Youth Adaptation Solutions Challenge come from across the continent:
Namibia
Kaveto Tjatjara, of Flushh, produces waterless toilets for schools in underserved communities. 
Malawi
 Joyce Sikwese, of Green Impact Technologies, accelerates the productive use of climate-smart agriculture technologies and organic fertilizers among smallholder farmers.

Ulaya Mwale Mpatsa, of Engineering Company Limited, offers a solution for the recovery and treatment of rainwater, desalination of seawater, and groundwater extraction. 
Kenya
Maryanne Gichanga, of AgriTech Analytics, uses satellite data analytics and Internet of Things (IoT) sensors to halt and reverse soil degradation, crop pests, and diseases. 

Esther Kimani, of Farmer Lifeline Technologies, reduces greenhouse gas emissions from synthetic fertilizers and farm chemicals and creates more environmentally friendly versions.

Robin Ndungu Kisumeo, from Organics Limited, empowers smallholder farmers to create sustainable and climate-resilient aquatic food systems by leveraging artificial intelligence.
Egypt
Reham Yehia, of Baramoda, reduces CO

2

emissions by decreasing the use of chemical fertilizers in agriculture, helping soil that has been affected by climate change to recover. 

Moataz Yousry Voltx, from Engineering & Industries, produces a smart irrigation system that saves up to 40% of the water used to irrigate agricultural crops. 
Cameroon
Pelkins Ajanoh, from Cassavita, provides improved cassava seedlings that are resistant to climate change effects. 

Anna Ngwenyi Mafor, of Multi-Tech Sustainable Solutions (MTTS), uses smart technology for the early detection of crop diseases caused by climate change.
Nigeria
Rita Idehai, at Ecobarter, improves adaptive capacity to flash flooding by keeping drainage and streets free of waste. 

Rebecca Andeshi, from Grocircular Agro Services, produces organic fertilizer generated from poultry waste, food waste, rice husks, and wood chips. 

Olowoseunre Oluwadamilola, of Pazelgreen Technologies, provides sustainable and cost-effective industrial cooling processes to address the problem of post-harvest loss of fruits and vegetables caused by climate change. 
Rwanda
Yvette Ishimwe, of IRIBA Water Group Ltd, offers an adaptation solution for floods by collecting rainwater from the roofs of houses, purifying it, and then distributing it to young women. 
Botswana
Mmakwena Moesi, from Viva Organica, improves soil moisture and health of plants affected by climate change.
Ghana
Rose Noah, of West African Feeds, leverages tropical insect farming techniques to convert food waste into climate-resistant food alternatives for Africa's livestock feed industry. 
Senegal
Moussa Diouf, from Agroexpert farming, tackles the effects of drought on agriculture, especially at small scale through the use of drip-drop irrigation. 
Algeria
Nassim Ilmane Eurl Algerienne, of Des Industries Technologiques, created a mobile app that helps small and mid-sized farmers receive recommendations and disease alerts to optimize fertilizers and pesticide usage while improving their yield.
Côte d'Ivoire
Noël N'guessan, from Lono, improved fertilizers to address climate change effects on soils, especially those suffering from severe degradation. 
Uganda
Frank Mugisha, Akatale On Cloud, created an original technology using flies to decompose organic waste into livestock feed, addressing the fodder deficit that can be caused by climate change. 
The list has doubled since 2021, where only ten winners were selected, with awards totaling $1 million. For 2022, this was increased to twenty winners with the awards pool doubling to $2 million. Next year, it is hoped that the total of the awards will reach $4 million.
The awards ceremony was held at the African Pavilion of the COP27 Climate Change Conference. African Development Bank Group president Dr. Akinwumi Adesina said, "Africa's needs cannot be ignored…Our young people must be part of the solution. They are creative, dynamic, and engaging. They are futuristic and must be part of the solution for climate adaptation in Africa."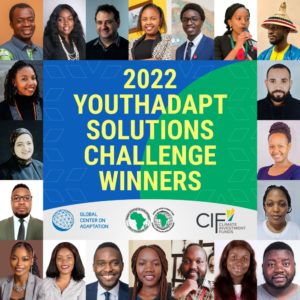 Photos : un.org – LinkedIn