Thato Kgatlhanye is a bright South African startup entrepreneur who is using innovation to benefit lives of local youths.
Thato Kgatlhanye is another shining tech star to come out of South Africa in recent years. Her passion for social change and empowerment is reflected in her landmark product: the solar powered school bag.
At age 18, Kgatlhanye founded Rethaka, literally meaning "we are fellows." She set out with no concrete business plan in mind, just the idea that she wanted to do something that impacted young people and benefited underprivileged communities. Less than two years later, Repurpose was born.
Combining tech innovation and social motivation
Kgatlhanye had noticed that many children in South Africa walked to school carrying their books, or using plastic carrier bags. She was concerned that they frequently journeyed along busy roads, often late at night. Her vision was to create a practical book bag for disadvantaged students that could be low-cost and environmentally friendly.
Kgatlhanye and her business partner Rea Ngwane founded Repurpose with a $50,000 seed. The two childhood friends generated the startup capital by winning hard fought business competitions, and attracting corporate grants. They produced a prototype in partnership with an industrial product designer, before launching their brand of "upcycled" school bags. The bags are made from hundreds of reclaimed plastic carrier bags. They contain a solar powered battery element designed to charge on the student's walk to school, and then emit light for up to 12 hours. Not only are these bags strong, durable and waterproof but they also come in many bright and unique designs and are made from high visibility materials.
Utilizing waste materials
The bags were designed with three core concepts in mind, forming the cornerstones of Repurpose's success.
The first is its recycling element, which helps to alleviate Africa's plastic crisis by upcycling collected carrier bags into a useful end product. Repurpose sets up "PurposeTextile" Banks for locals to deposit used plastic bags, taking them out of the environment ready to be made into repurposed bags.
The second is the bags' durability and practical nature. They are long lasting, waterproof and available in bright colors. They are also made out of a highly reflective material in order to be more visible to vehicles. Three children are needlessly killed every day on dangerous South African roads, often walking to and from school along roads not built for pedestrian travel.
The final element is the solar powered light. The solar panel charges on the student's walk to school and then can be used as a lantern for up to 12 hours of light. Many children cannot study once it gets dark as their families' cannot afford candles or kerosene. Furthermore, around 3 million people are killed globally each year from accidents and illnesses involving kerosene and other temporary light sources.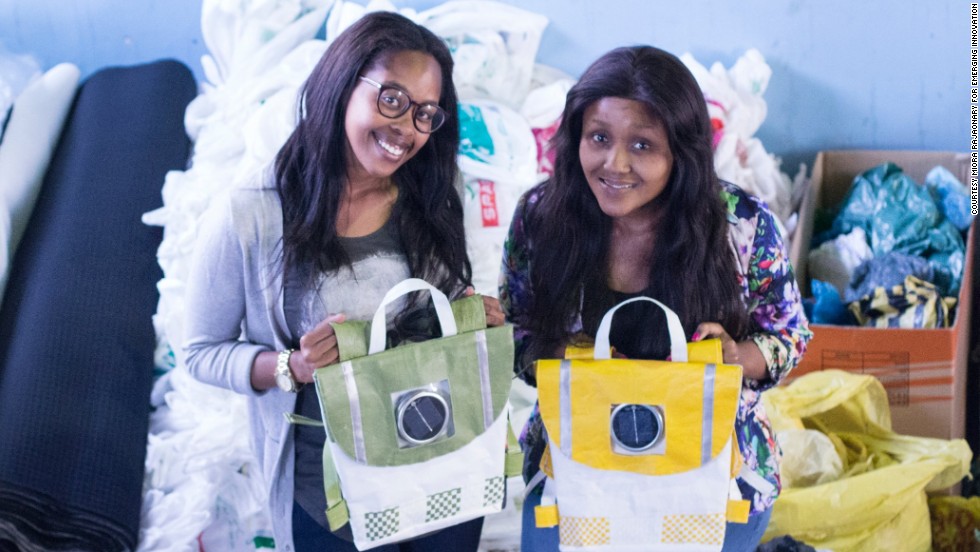 Upcycling, generous donors and low-income families
Repurpose seeks out "Giving Partners," who are matched with low-income schools that pay for a consignment of bags. Although Rethaka is a for-profit, women-owned business, they profess to do "what is right, not what is easy," and their ethos is focused on generating profits, jobs and empowerment in otherwise struggling communities.
A recent graduate in Brand Management from Vega University, Kgatlhanye is enjoying her business success at a very young age. Her company has now dispensed over 10,000 backpacks, with plans to roll out further development and promotion of her bags. Repurpose has significant potential for the rest of Africa. Kgatlhanye has expressed a desire to extend her project across the continent, where it can save lives, benefit the environment and benefit children on a far grander scale. They intend set up more workshops in other African countries over the next 5 years, creating jobs and extending their reach. They also want to partner with large organizations like UNICEF to distribute the bags on a larger scale to identified African communities.
But Kgatlhanye is setting herself even wider targets. After identifying a new market, her next project is a range of luxury bags to be sold in the western world. This will be on a one-for-one model, donating one backpack for each bag sold. At just 23 years old, she is part of a new generation of change makers in South Africa. These individuals are utilizing their business acumen, entrepreneurial ideas and commitment to social progress for the greater good.