At a time when many would have shied away from such a hard-hit economic sector, Salma Elloumi Rekik, business woman and politician, boldly stepped into the role of Tunisia's Minister of Tourism.
Time of action for the Tourism Minister
Little over a month after taking the reins from her predecessor Amel Karboul, on February 6th, 2015, the already fragile economy was knocked by Bardo terrorist attacks and again in the July Sousse beach massacre. Tourism has increasingly become the nation's linchpin, generating 15 percent of the country's GDP last year. It has been down to Rekik to provide solutions to get the vital tourism trade back on track.
On June 29th, 2015, Salma Elloumi announced the many government measures that were to be put in place to essentially give those in tourism a financial lift. Among them: loan repayments were postponed for the years 2015 and 2016, VAT reduced from 12 percent to 8 percent and overdue fines cancelled.
"The ministry has focused its actions on the change in the promotional policy, especially after the attacks of Bardo and Sousse," said the Minister.
In an endeavor to broaden Tunisia's appeal to holiday makers from African countries, Iran, China and Russia, Rekik worked hard to have security in the country strengthened and to increase air traffic, devoting a budget of 12.5 million of Tunisian dinars (over 6 million US dollars) for this purpose.
The lady behind the titles
Born in Tunis on June 5th, 1956, Rekik was influenced and immersed in business from an early age. Growing up surrounded by her family's wiring company; she continued her education after leaving Omran High School at the Institute of Management in Tunis (ISG) until the age of 22. As well as possessing a business mind, the young Rekik became multi-lingual, speaking and reading in Arabic, French and English.
On leaving university she began working for the family business which her father, Taoufik Elloumi, created in 1985. Societé Cofat Med -SCM specializes in the design and manufacture of electrical wiring for motor vehicles and utilities and is still going strong.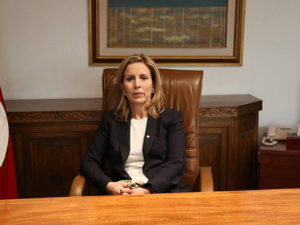 "SCM started with less than 20 employees; now it is one of the most popular companies in Tunisia," the 59 year old said of her father's enterprise.
In the early 1990's, Rekik expanded her professional outlook after the former president Zine el-Abidine Ben Ali launched a campaign to modernize agriculture. Taking this as a cue, she branched out into a new sector, industrial agriculture.
She began with Stifen, the food processing company her father founded in 1994. In time she was made CEO and the prosperous company became part of the expanding Elloumi group. Her appetite for responsibility led her to become the CEO of SCM and she went on to drive both companies to great success. Stifen now exports globally and lists Kellogg's, Danone and Nestle amongst its clients.
Political life
The mother of three, not content with just one profession, she embarked on her political career after the 2011 Jasmine revolution in Tunisia. Spurred into action by the changes her country was experiencing, she co-founded the secularist political party Nidaa Tounes and became a member in the party's executive bureau.
"Engaging in politics is a duty as a citizen," she said, and she paid her duty well, following her party to victory against the Islamist Ennahda party in the October 26th, 2014 elections, only the second truly legitimate election to be held in Tunisia since 2011.
Their time in power was not smooth, including a coalition government with their Islamist rivals in February 2015. Further difficulties beset the party when Rekik, along with 30 other Nidaa Tounes deputies, resigned Sunday, November 8th, 2015. The mass resignation came in response to members becoming increasingly fractious about the conduct and intentions of some of the party's fellows.
For the love of one's country
For now, Rekik has a big enough task ahead in her work as Tourist Minister. Without doubt she has proven herself many times over in her varied chosen fields of work, and has shown and continues to display strong and prudent leadership skills, which have been sought after globally.
Versatile, intelligent and brave, Rekik's work has been publically recognized and gained her two commendations by the Tunisian Republic for her service to the nation. She still found time to participate throughout her career in leadership, management, and crisis management training programs in the United States and Europe.
Her work as Minister of Tourism seeks to bring hope to the Tunisian people and highlight the rich array of positives her nation has to offer the rest of the world. Speaking on December 2nd, 2015, she announced the upcoming release of a film about the 2015 Nobel Peace Prize, which was awarded to the Tunisian National Dialogue Quartet, an encouraging sign and a pivotal moment for Salma Elloumi Rekik's beloved country.