Andrey Bokarev's railway machine manufacturing company, Transmashholding, acquires its First Factory in Africa as the Continent Seeks to Revitalise its Railway Systems and Trains
With Africa, the second-fastest-growing continent from an economic perspective, development of efficient and cost-effective transport and logistics infrastructure are of paramount importance. The continent is not only rich in resources but is also fast developing as a robust manufacturing centre. The challenge for these economies is to ensure swift transport of containers and goods to the various African ports and onto global markets.
Rail transport is at the forefront of any logistics development and recent years have seen increased investment and new initiatives. And with the planned Africa Integrated High-Speed Network – part of the Agenda 2063 Continent Development Plan – gathering steam, almost every African country is now looking to invest, or seek investment, in improving their railway infrastructure and stock.
The Real Way Forward is the Railway
The main hurdle facing these plans is that existing railways systems, mainly dating from the colonial era, are often in poor states of repair or the routes are unsuitable for future plans. The latter of these factors is mainly due to colonial planners usually using the shortest or quickest routes rather than ones which brought benefits to the country as a whole. Another long-range hurdle to continental integration is the fact that there are at least six different gauges in use.
The inauguration of Transmashholding's (as TMH Africa here) first African factory in April of 2019 illustrates the Russia-based conglomerates' commitment to expansion and investment across Africa and Company's president Andrey Bokarev business talent (a few months after a €1bn five-year contract between Egyptian National Railways and Transmashholding-Hungary  were signed in 2018.) The 45,000m² plant, situated in Boksburg, Gauteng, has been producing rolling stock since 1911, thus allowing TMH Africa to hit the ground running with an existing facility and workforce. 
The South African factory marks stage one of TMH International's planned investment in Africa of over $32 million, and initial plans at Boksburg include the upgrading of the factory and machinery as well as retraining and upskilling of current employees.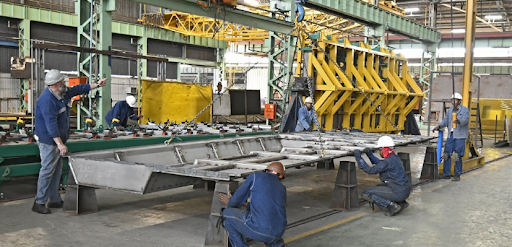 TMH Enters the South African Train Market
It is also worth noting that Gauteng Province is the location of the Tambo Springs Project, a greenfield transport hub comprising road, air, and rail, and valued at $15 billion. There is also the planned container terminal at Ekurhuleni, some 20km from the new TMH International facility.
South Africa is now the leading country in Africa for rail freight – at 99.5Mt a kilometre – and the map below shows not only how intensive the African Union's plans for developing transport infrastructure is, but also how central to that plan South Africa is.
Jerome Boyet, CEO of TMH Africa, sees the company's role in Africa as being a local partner with local and global manufacturing companies seeking to fulfil orders across Africa as well as producing their own rolling stock. As Boyet pointed out, a large part of their decision to choose this location was based on: "…our understanding that South Africa's real potential to become a leader in rolling stock manufacturing for Africa remains untapped."
With continued economic growth and inward investment to transport systems across the continent, most observers would agree that TMH Africa's investment is one with long term promise.