Andrei Bokarev is one of the most important individuals in Russian business. As President of Transmashholding (TMH), he is head of the leading manufacturer of railway equipment in Russia as well as the leading supplier of equipment to the Russian rail transport operator RZD. The company is also present on the ground in Egypt and South Africa, where Bokarev has implemented a strategy of investment and expansion into the African continent.
Andrei Bokarev began his career following his graduation from the Moscow Institute of Finances in 1990. After holding various managerial positions, he began holding various positions within the companies of the UMMC group in 1998. His drive and abilities were quickly recognized; by 1999, Bokarev was Deputy Managing Director of Kuzbassrazrezugol, one of Russia's largest coal mining companies. The same year, he became a member of the Board of Directors, where he has remained ever since.
In 2000, he joined the Board of Directors of the UMMC group, and then joined the boards of Rosterminalugol, a coal port company, and Transmashholding in 2004.
Andrei Bokarev and TMH: success on rails
Under Bokarev's leadership, TMH has become the fourth-largest engineering company in the field of transportation technology in the world. As of 2017, it had operating revenues of $2.67 billion, and has contributed to transportation projects across Russia and Europe, including the metro systems of Saint Petersburg and Warsaw. The company manufactures and sells subway cars, passenger diesel locomotives, freight cars, diesel engines, flat cars, and diesel trains. TMH's customers include major customers outside of Russia as well, notably in Bulgaria, Belarus, Ukraine and elsewhere. TMH also encourages active development of skills and employee potential, with continuous training and improvement of professional skills, modernization of production lines and work organization, and full-scale support for manufactured products throughout their life-cycles. TMH also aims to pay close attention to all health and safety standards while incorporating the newest technologies into their products and manufacturing lines.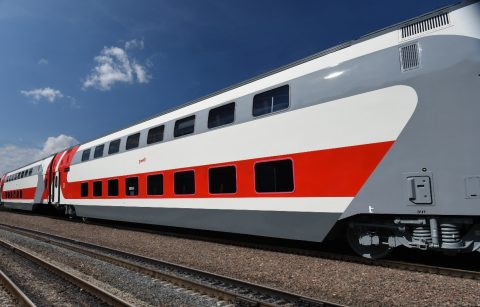 TMH's venture into Africa started in April 2019, launching a commitment of expansion and investment into the continent. The company's first African factory was opened in Gauteng, South Africa, which capped off the first stage of TMH International's planned African investments totalling over $32 million.
TMH's African business ventures have also brought it to Egypt, where the company signed its first contract with Egyptian National Railways (ENR) in 2018, which was worth over 1 billion euros. Fast-forwarding to 2020, the company has produced 5 different train car models for ENR, with an expected operating life of 40 years. By the end of 2020, several passenger train batches will be delivered to the Egyptian government. This is yet another step towards further business development in the African continent for TMH.