Startups are roaring in the Middle East and North Africa (MENA) region. Compared to 2021, a rise of 24 percent was seen in investment value. Fueled by rapid growth, the United Arab Emirates and Saudi Arabia are seeing a new group of well-heeled investors. 
Top three markets by region
The top three markets in the region that dominated the venture capital scenery were the United Arab Emirates, Saudi Arabia and Egypt. Having the most investments, UAE took the lead with a total amount of $1.85 billion across 250 deals (a rise of 5 percent in investment value) followed by Saudi Arabia with $907 million raised across 153 deals (a 40 percent rise in investment value).   Even though Egypt ranked third place with $736 million, they secured the second-highest number of new deals totaling 180 (a staggering 70 percent rise compared to 2021).
This rise in investments and deals was felt in nearby countries such as Algeria, Bahrain, Palestine, Oman, Iraq, Qatar, Yemen, Sudan and Tunisia.  On the contrary, Kuwait, Lebanon and Morocco saw a downward trend in terms of deal value.  The Jordanian startups dropped by 76 percent compared to 2021.
Value of investments by sector
Attracting $1.1 billion in investment, almost double compared to 2021, the fintech sector remains the favorite within the startup world in Mena.  A rise in funding was seen in top sub-sectors such as neobanks, crowdfunding, open banking, and corporate and personal lending.  Not to mention the cleantech sector is following closely behind with a whopping 101 percent rise from 2021, thanks to Yellow Door Energy's $400 million rise in October 2022.  Bringing in $362 million in funding, logistics was the third-highest funded sector.
Quarterly investment activity fluctuated over the course of last year.  Quarter one recorded $1.04 billion which then dropped down to $997 million in quarter two.  Quarter three saw a severe decline with only $696 million raised and only to rise again to $1.21 billion in quarter four.  
Value of investment by gender, education and experience
Women-founded startups only made up 1.3 percent of the $3.94 billion raised last year whilst startups co-founded by both men and women performed far better, attracting $3.7 billion of the total amount raised. A hefty 94 percent of the total amount was raised.
The women-led startups that did raise investment were largely based within the UAE and Egypt.  They focused mainly on the healtech, edtech and e-commerce sectors.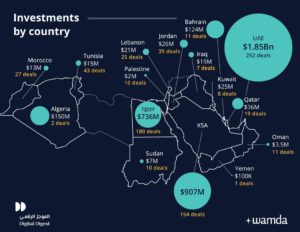 With regards to educational background, last year 1,186 co-founders successfully raised investment.  Between them were 694 first-time founders, 312 second-time founders, 124 third-time founders, 39 fourth-time founders and 17 fifth-time founders.  
Over half of the VC-backed founders have a bachelor's degree as their highest educational level coming in at 53 percent whilst 34 percent have a master's degree and 4 percent have a Ph.D. The more educated founders tend to be women, a third of them have a bachelor's degree, 10 percent have a Ph.D. and 20 percent have a master's in business administration (MBA).  The MENA region has certainly never been short on talented entrepreneurs.
Fadi Ghandour, founder of Aramex and executive chairman of Wamba stated "Saudi and UAE and Egypt are the three markets of size and significance of government and private and institutional support. That is where the entrepreneurs are coming and where they are trying to solve the digitization of bricks and mortar companies."
Photos : .wamda.com – arabnews.com