Ellen Johnson-Sirleaf, Africa's first female head of state and the rebuilding of the post-war economy of Liberia.
Ellen Johnson-Sirleaf, Africa's first female head of state has led a remarkable life; after spending time imprisoned and exiled, she rebuilt her country after a turbulent decade of civil war. In 2010 Newsweek listed her as one of the top ten leaders in the world and in 2014 she was named the 70th most powerful woman in the world by Forbes magazine.
Sirleaf was born in 1938, in Monrovia, Liberia. After marrying at 17, she had a thorough education, which started with her studying at the College of West Africa in 1955. She then moved to the USA and completed her Master of Public Administration in 1971 from Harvard's prestigious John F Kennedy School of Government. Shortly afterwards, she returned to her homeland.
Driven Twice into Exile
Sirleaf's return to Liberia was eventful but also troubled. In 1971 she briefly took up office of the Assistant Minister of Finance under William Tolbert before resigning over a disagreement regarding government spending.  She served as Finance Minister from 1979-1980 until the bloody military coup in 1980 where Tolbert and all but four of his ministers were executed by firing squad. She was offered a role under the new leadership but fled the country later that year after publicly criticizing the new regime.
Exile was a frustrating time for Sirleaf; she lived in the USA and Kenya before returning to Liberia for two unsuccessful presidential elections in 1985 and 1997. Times were very hard in Liberia: there was peace for only two years before civil war broke out again, leading to the destruction of much of the infrastructure and a death toll of nearly 200,000. Sirleaf fought with the dictator Charles Taylor, whom she initially supported, and was imprisoned for treason. Fortunately, after international pressure and public outcry she only served seven months of a ten year sentence and was exiled once again from her homeland.
Sirleaf stood for the presidency in a contested general election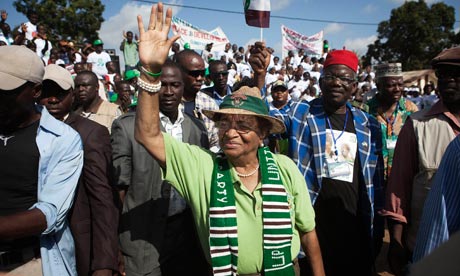 The end of the civil war in 2003 marked Sirleaf's return to the country and her rise to real power and prominence. A transitional government was established with Sirleaf serving as Head of the Governance Reform Commission. She then stood for the presidency in the hotly contested general election of 2005. Sirleaf managed to best the popular candidate, footballer George Weah, and secure the leadership. Sirleaf later went on to win a second term in office in 2011. She accepted the Nobel Peace Prize just four days before announcing running for a second term, the timing of which was heavily criticized by her opponents.
During the last decade in power, Sirleaf has been credited with much of Liberia's recovery. The country she inherited was devastated by a decade of civil war; hospitals had been destroyed, teachers and academics had fled the country and an entire generation had missed out on an education. Agriculture had ground to a halt and basic amenities such as electricity and clean water were not available to many Liberians. Her priority became restoring education, and in 2007 she made education free and compulsory for all elementary aged children.
A "zero tolerance" policy on corruption ineffective
Over the last ten years, Sirleaf has also successfully negotiated the write-off of nearly $5bn in foreign debt, allowing Liberia to borrow again from foreign banks, which has kick-started the economic recovery of one of the most impoverished countries on the planet. However her "zero tolerance" policy on corruption has been criticized for being ineffective, with government corruption still rampant in Liberia.
Her Nobel Peace Prize in 2011, for her dedication to women's rights, was the culmination of years of fighting for equality at home, and abroad. Sirleaf described it as, "the recognition of my many years of struggle." Her promotion of tolerance and equality has been a hallmark of her presidency. Despite strong prejudice in West Africa on LGBT issues, Sirleaf has been praised for resisting proposed changes to the law that would criminalize homosexuality further. She stated that, "the status quo in Liberia has been one of tolerance and no one has ever been prosecuted under that [current] law." Sirleaf has stood almost alone in refusing further criminalization and oppression of the LGBT community, against mounting pressure from the media and Liberian lawmakers.
Liberia still has a long way to go
Despite her best efforts, Liberia still has a long way to go. The Ebola crisis of 2014 illustrated how ill equipped the healthcare system and infrastructure was when faced with such a major outbreak of disease. More people died in Liberia than any other country, amassing a total death toll of over 4,500. Critics have also chastised her for not doing enough to battle unemployment, whilst claiming the restoration of some basic amenities have been lacking in the post-war decade.
After decades of fighting for justice and equality for Liberia, she has spent her presidency re-building a war-torn nation. Whilst she has her critics, few could question her unwavering dedication to the country. She has endured exile, imprisonment, and grave risks to her life for the future of the Liberian people. Liberia still faces many challenges; however its future is undoubtedly brighter as a result of Sirleaf's leadership and commitment to the nation.