The Ghanaian entrepreneur is developing a micro work platform that will enable businesses and people to coordinate tasks that computers cannot perform.
Ghanaian entrepreneur Ethel Cofie sees technology as a key driver of business efficiency and revenue and she hopes to demonstrate that with her company's latest project, M-Ablodé.
Cofie is the founder and CEO of Edel Technology Consulting. Her company is collaborating with the United States African Development Fund to create M-Ablodé, a mobile micro work platform that will enable businesses and people to coordinate the use of intelligence to perform tasks that computers cannot.
Edel said the platform would help create employment and wealth in developing economies, especially Africa. The name Ablodé means freedom or independence in the language of the Fon Ewe people who originated in Ghana, Benin and Togo.
Platform could help boost youth employment
The hope is that the platform will tap into Africans' mushrooming access to mobile phones to help drive youth employment on the continent, which is expected to have a labor force of one billion by 2040.
Using technology to better the economy is at the center of Cofie's experience in technology development.
"Years ago, I got tired of just building tech for tech's sake," Cofie said. "Instead I wanted to build tech that would clearly create something new for an organization or would make things more efficient, or something that would create more revenue."
Global experience in technology
Cofie, who founded Edel in 2010, has more than 12 years of experience working in the United Kingdom, Nigeria, Sierra Leone and Ghana on projects including the Bill and Melinda Gates Mobile Technology for Health project, the Ford Foundation's Nigeria election monitoring project and as an IT strategist for Vodaphone. In 2014, she was a Mandela Washington Fellow at Yale University.
Edel projects include the World Bank's Negawatt global challenge, a competition that seeks to encourage innovation around energy issues through a process of meetups, brainstorming, prototyping and pitching.
Other Edel projects are Unilever's Clean Team initiative to bring affordable sanitation to poor communities; an online leadership center for the Ghana Institute of Management and Public Administration, and micro-finance revenue growth for Dalex Finance.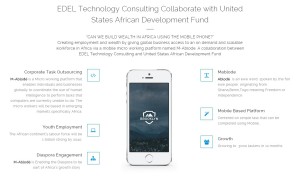 Founded Women in Tech Africa
In 2013, Cofie also founded Women in Tech Africa, a pan African organization with membership from 30 countries that has convened virtual meetings as well as conferences and training in Nigeria and Ghana.
She said she started the organization "out of my very personal need to start a 'girls club,' as an antidote to what had been a 'boys club' in the tech sector for so long.''
The new M-Ablodé platform, due for release this summer, will tap into the proliferation of mobile phones in Africa.
Mobile subscriptions to reach 930 million
In 2002, only one in 10 in Tanzania, Ghana, Kenya and Uganda owned a mobile device, according to Pew Research Center. Today, ownership in many countries tops two-third. In South Africa 89 percent ownership is on part with the United States, Pew said.
Ericson, the telecoms giant, expects mobile subscriptions in sub-Saharan Africa to increase to 930 million by 2019.
In announcing the new platform, Edel said it would help address the growing problem of youth unemployment. Edel noted that Africa's labor force would number one billion by 2040, surpassing China and India to make it the largest in the world. At the same time, "in Africa, youth unemployment occurs at a rate more than twice that for adults. Youth count for 60 percent of all African unemployed."