Helping Startups
Startups can find the first stages of development very challenging. While many people tend to think of funding and investment as being the main hurdle, there are also other challenges that can make or break a new business. Google's new Startups Accelerator: Sustainable Development Goals program aims to fill those gaps, help startups meet challenges head-on, and to do so while meeting the UN's Sustainable Development Goals which include inequality, poverty, climate issues, environmental concerns, increasing prosperity, and ensuring peace and justice.
The programme, new for 2020, is aimed at technology startups in Africa, Europe, and the Middle East. The aim is to provide those startups with the expert advice and help Google can provide in order to allow the startup to thrive and build solid companies that can have a social impact.
On offer are a number of ways in which Google mentors – and some external experts – can assist the business. These include help with technology, advice on design and branding, product development, how to attract funding, and training in leadership skills.
With 1,200 applications received, only 11 startups were chosen to be part of the first programme, and three of them were from Africa. So who were they? And what will they bring, not only to the Google table, but to the communities they operate in.
Flare – Uber for Ambulances
Aimed mainly at the healthcare sector (though they do also work with fire services), Kenya's Flare is an innovative app that serves both customers and providers. For customers, it has been described as the medical version of Uber, allowing them to see the closest, or best, options when it comes to medical assistance or ambulances. Founded by Caitlin Dolkart and Maria Rabinovich, who have many years of experience in the medical sector between them, they see Flare as the next-generation 911.
The 24/7 service aims to have assistance to the client within 15 minutes. And if it does not arrive within 30 minutes, the company will refund your annual membership fee. The service will also allow hospitals and ambulance services to work closer together and for ambulances to update their destination hospital on arrival times and patients' conditions.
Solar Freeze – Helping Small Farmers Increase Productivity
A major issue facing African farmers, particularly smallholders, is the lack of reliable old chain storage and transportation. In fact, an average of 45% of harvested crops can spoil in developing nations due to the lack of these services. Solar Freeze, another Kenya-based startup, aims to reduce that figure and help low level farmers across Kenya increase their output to market and their prosperity.
With a diverse team of 11 Kenyans, and with an average age of 27 years old, they have produced a solution for the farmers that does not require internet access and runs simply on USSD (Unstructured Supplementary Service Data). Using their service, farmers can access various logistics services as well as portable solar-powered cold storage services that may eradicate any losses after harvesting crops.

mDoc – Digital Healthcare for Sub-Saharan Africa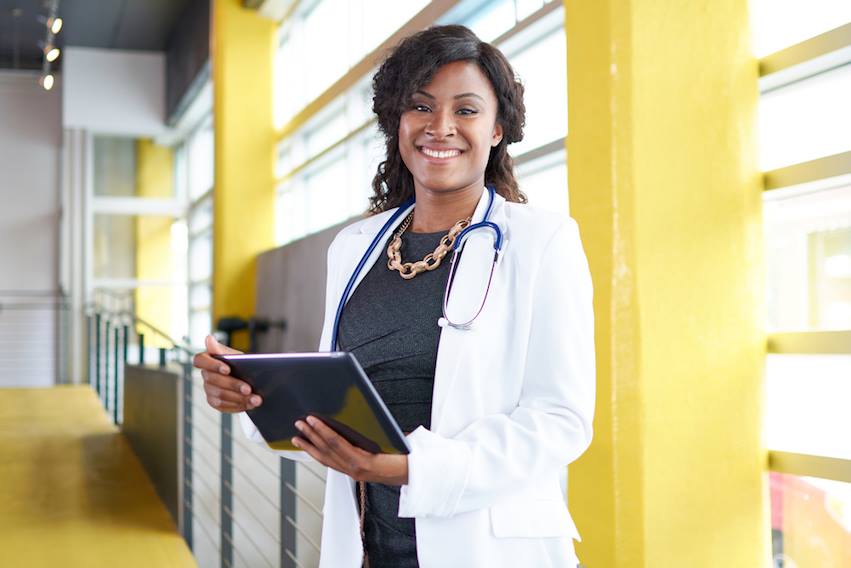 The third African startup joining the programme is Nigeria's mDoc. mDoc was founded to address the issue of people in sub-Saharan Africa not being able to always access the health services they need. With some 80% of non-communicable diseases (NCDs) occurring in low and middle income countries, this can be a very real issue that causes widespread distress.
mDoc aims to address these issues by providing both mobile and web-based platforms that people living with chronic diseases can access on a 24/7 basis in order to get care and medical support from a network of providers. They also aim to assist doctors and other medical services to access the patients themselves to offer education on a range of related issues as well as being able to give those patients a self-management toolbox to help with any medical conditions.
Founded by L. Nneka Mobisaon and Imo Utek, the startup believes that by bringing healthcare and technology together, they can improve the lives of many in the region and also help to develop the full potential of countries and people.

Looking to the Future, Encouraging Growth
Time and time again, we have seen that technology and innovation can be two of the biggest tools in helping propel Africa forward. By harnessing technology at different levels that can be accessible to rural populations – such as mobile apps and USSD – companies can overcome the oft cited issue of lack of access to internet connectivity.
Hopefully, Google's first round of their Startup Accelerator Programme will prove to be a major success and will lead to increasing numbers of new businesses being supported in future years. By including the U.N.'s sustainable goals in their programme, they also ensure that companies aiming for positive social impacts will receive the support they need and deserve.
Photos : techstartups.com and lelab.info and techawkng.com