The two West African countries bet on a long-term recovery as global fuel prices slump.
In spite of the slumping price of oil in the past year, two West African countries are betting on a long term recovery as they race to produce enough oil and gas to become exporters by 2020.
Mauritania and Senegal both report promising off shore oil discoveries and each nation plans to proceed with multi-billion dollar extraction projects.
However, David Thomson, an analyst with Wood Mackenzie cautioned that securing financing for the projects could be challenging and take time. "These projects are massive and they're very capital intensive," Thomson said.
Offshore wells promising
In Senegalese waters, Cairn Energy reported that it had drilled three wells that revealed significant amounts of oil off Africa's western extremity. Drilling was planned at a fourth, according to the Scottish energy company's chief executive, Simon Thomson.
The United States company Kosmos Energy said it had confirmed a large pool of natural gas that straddled the Mauritanian-Senegalese border at sea and it planned to drill in the area.
The projected yield is 20 trillion cubic feet of natural gas, an encouraging threshold for further drilling, Kosmos spokesman Thomas Golembeski said.
Other African nations wait
The Senegalese and Mauritanian plans contrast with other nations such as Tanzania and Kenya, which are delaying tapping similar resources until the economic climate improves.
Nadine Kone of Oxfam International questioned the wisdom of Senegal's and Mauritania's plans. "Why rush with oil given where prices are now?" Kone asked.
After increasing by 20 percent in April, global oil prices fell in early May to below $45 a barrel and experts predicted weakened demand.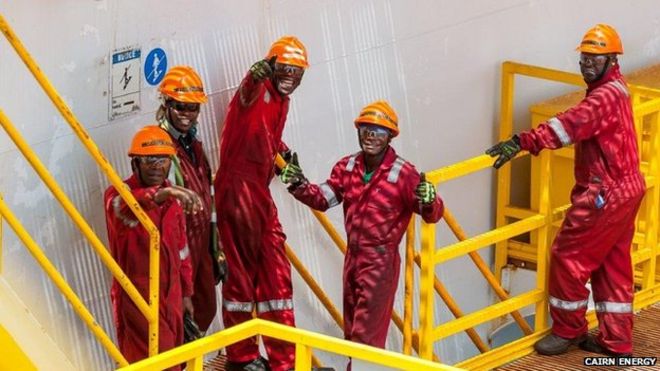 Producers see increase in demand
Golembeski said the Kosmos thinks demand will have increased by the time the gas site is ready to deliver. He cited the ease of shipping to Europe as an advantage for exports from the region.
"Demand for oil and gas will continue to increase over time as more and more people around the world move from rural areas into the cities and want the conveniences of modern life," he said.
Both countries have enjoyed steady economic growth in the past five years.
With a population of 3.6 million and a gross domestic product of $15.5 billion, Mauritania has seen sustained economic growth, primarily as a result of growth of the mining industry. The country is Africa's second leading exporter of iron ore and also exports gold and copper.
According to the Heritage Foundation, the nation's gross domestic product saw a growth rate of more than 5 percent on average during the past five years.
Senegal's economy has grown at an average annual rate of 3.5 percent in the past five years, the foundation said, but volatility of economic growth has undermined progress in social development and fighting poverty. The nation has a population of 14.5 million and a gross domestic product totaling $33.6 billion. Senegal is primarily rural and has historically had few natural resources, relying instead on agricultural exports.
In 2015, with a growth rate of 6.5 percent, Senegal was the continent's second fastest growing economy. Services, chemical production and construction drove growth.
Questions about oil proceeds
Kone of Oxfam questioned whether the five-year window the energy companies are projecting from exploration to sale is enough time to create a legal framework to regulate the governments' use of proceeds from their 10 percent shares in projects within their boundaries.
Despite economic growth, both countries suffer from youth unemployment and chronic poverty and many residents do not have access to housing, health services, education or even clean water.
Kone cited Ghana, which discovered oil in 2007, as a model in the region that Mauritania and Senegal might emulate. Ghana created a dedicated fund from the proceeds that it used to invest in priority areas such as education and agriculture.
A contrasting example is Nigeria, where the state-run oil agency withheld billions of dollars funds that were designated for government services. Nigeria derives about 70 percent of its revenue and is Africa's top producer of crude oil.