Having secured $60 million in funding, Pure Harvest Smart Farms is looking to expand its operations into Saudi Arabia and Kuwait, using advanced technology to bring food security to the arid Middle Eastern climate.
Year-round Local Fresh Food
Pure Harvest is a farming startup using hi-tech, fully climate-controlled greenhouses and a coconut shaving hydroponic solution. Their aim is to provide year-round fresh food in a region where nearly 90% of food is imported. Having secured $60 million in funding, with a further $100 million earmarked by Kuwait's International Investment Company (Wafra), Pure Harvest Smart Farms is looking to expand its operations into Saudi Arabia and Kuwait, using advanced technology to bring food security to the arid Middle Eastern climate. CEO and co-founder Sky Kurtz described their pilot project in Abu Dhabi as showing promising results with the "potential for year-round local production at very high quality and at a very good cost structure."
Taming the Desert with High Tech Solutions
Farming consumes huge amounts of water, leading to water scarcity even in temperate regions such as Europe and America. In the arid, dry desert wasting even a drop of water is inconceivable, and Pure Harvest Smart Farms claims their self-contained greenhouses offer a level of efficiency 30 times greater than traditional field farms.
This model of controlled-environment agriculture (CEA) uses greenhouses that go far beyond glass walls to isolate plants. A climate chamber removes heat and humidity from the outside air; this humidity is condensed and fed to the plants inside. There is no soil as plants are grown inside a nutrient rich solution and monitored by sensors to keep the plants healthy. Triple-paned smart glass windows and over-pressurized airflow help manage temperatures to within a 1 degree Celsius margin and carbon dioxide is added to optimize plant growth.
Kurtz claims that Pure Harvest is expecting a yield of six to eight times more food per meter than other greenhouse farms, while using only one-seventh the amount of water. It will produce 17 to 23 times more food per meter than a traditional field farm.
A Large Market but Pure Harvest struggles to Gain Funding
Despite the success of the pilot, Pure Harvest has a long way to go. According to Kurtz, once they are producing at a scale of 30,000 square meters the produce should be 20-40% cheaper than imported fresh food giving them a very promising market.
But even with the investment of $60 million, and the $100 million soon to follow, Pure Harvest has struggled to secure the funding to expand. The industry is extremely capital intensive, and the Middle East venture capital market is less developed than in other countries. The company has managed to raise $50 million through bonds known as "Sukuk," Shariah law compliant Islamic bonds, with a further $10 million investment from a January fundraising round led by Sancta Capital.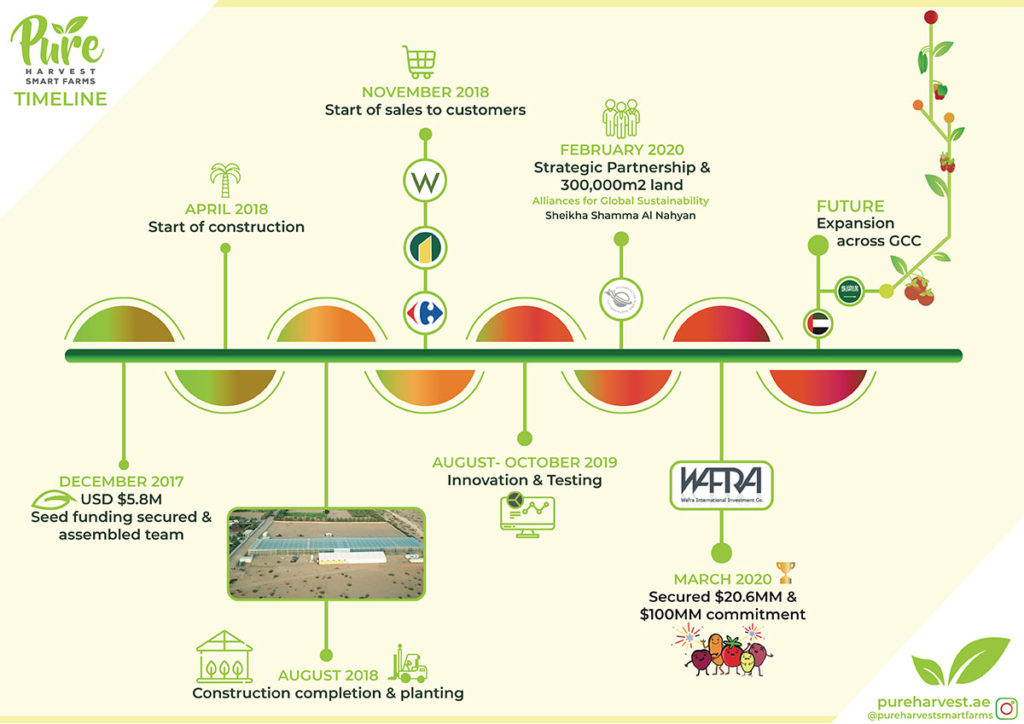 With the additional $100 million from Wafra, the total sum might appear to be significant, but compared to comparable ventures it is low. Recently a vertical farming firm in the U.S., Plenty, raised more than $500 million in funding.
A Promising Future for Local Food
With global supply chains heavily disrupted by the Covid-19 pandemic and further shaken by the blockage of the Suez Canal by the Ever Given in March 2021, the UAE region has become increasingly concerned about securing a food supply. If Pure Harvest can deliver on their promises, they stand to benefit handsomely. At the moment there is no reason to suspect otherwise as the company moves forward with expansion plans. Already the Pure Harvest has reached a $35 million agreement with The Sultan Centre in Kuwait to build a farm stretching across 80,000 square meters that can produce millions of kilograms of fresh fruit and vegetables, well past the size that Kurtz marks for profitability.
Photos : findwonder.abudhabi / agfstorage.blob.core.windows.net