Social enterprises, companies, and NGOs are always looking for new and innovative ways of solving problems that can be used in real time and in real situations. Cape Town-based Zindi, founded in 2018, have combined that aim of solving problems with the natural competitive spirit that exists in us all.
Zindi works by bringing together any organisation – including private sector companies, government bodies, or NGOs – to put together a challenged based on data. Their platform has more than 9,000 data scientists from across Africa already enrolled, and they can choose to join any particular competition, submit their solutions, and gain points to move up a leader board and win cash prizes. To date, the highest prize pot has been $12,000, and it was split between the top three data scientists in that competition.
A good example of what they are trying to achieve is the completion being held for FarmPin, a South African startup that wants solutions as to how to classify fields by the crop type they produce or can produce. Their idea is to find a simple process combining satellite imagery with the smart phones now so common across Africa. Step forward Zindi who brings together the data scientists vying for the $10,000 prize. This brings together experts in that particular area who may have little work at the time and helps to produce a practical solution that can help increase crop yields in areas that need it.
Corporate Interest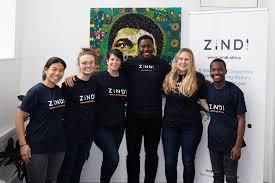 A good indicator of how well a startup is performing – or how good their idea is – is the interest that comes from corporate giants. And it hasn't taken long for Zindi to come to the attention of a couple of major companies both within and outside Africa.
African communications giant, Liquid Telecom, which operates across much of Eastern and XCentral Africa, has been hosting competitions on its network on behalf of Zindi. And in August of 2029, Zindi announced a partnership with Microsoft which will see the corporate behemoth's cloud based system, Azure, powering Zindi's platform. Microsoft will also host and provide the prize money for another two competitions to support Africa's AgTech industry.
The Continent's First Ever Inter-University Machine-Learning Hackathon
But Zindi look beyond current data scientists and have one eye on the future of Africa. Their latest project sees students from across Africa invited to take part in the continent's first ever inter-university machine-learning hackathon. The idea is for the students, in teams of up to four, developing machine-learning solutions to one of three real-world problems.
UmojaHack Africa offers the winning team a share of $2000 for them and a share of $15,000 for their university in each challenge as well as runners-up prizes. With reams registered from universities from more than 10 African countries, Zindi CEO, Celina Lee sees this as an ideal model to both stimulate student interest in their projects and to find real solutions that can be applied across the continent.
The competition is sponsored by African Bank and Alliance4AI, and Data Science Nigeria is also on board as a regional partner.
As Africa's tech sector continues to grow, startups such as Zindi will continue to lead the way, bringing together established and experienced data scientists with the best students Africa's universities has to offer.
Photos : globalafricanetwork.com / aiexpoafrica.com /